Exfoliation (a fancy word that means getting rid of dead skin cells) will help your skin retain a beautiful natural glow. That's because a scrub helps the skin efficiently absorb all your expensive serums and creams and can make your tan last longer. If your goal is to get radiant skin, you should think about exfoliating your entire body, from head to toes.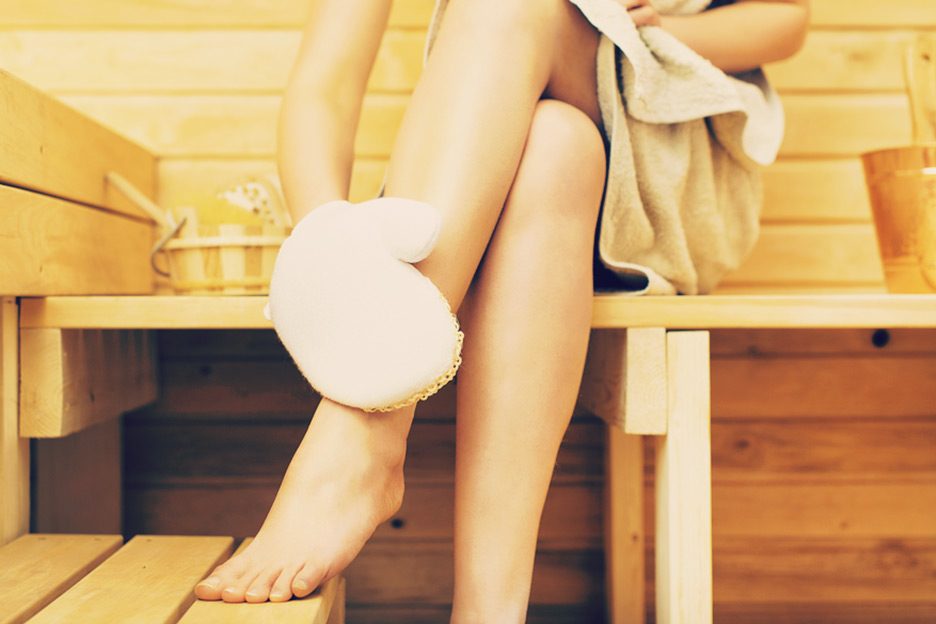 Exfoliation 101
« To fully absorb the active ingredients in products you apply on your skin, as well as to get optimal results from self-tanning lotions, you first need to exfoliate. Exfoliation is crucial for getting rid of dead skin cells. »
Exfoliation, especially with the use of a glove, oxygenates the skin by boosting microcirculation and cell renewal. It will also improve your skin's radiance and make it firmer. Another benefit of exfoliation is that it can prevent ingrown hairs and keep them from turning into a painful and unsightly sore point. Last, but not least, it can also help reduce the appearance of cellulite.
How often should you exfoliate?
By making exfoliation a part of your shower routine you'll get the best results.
« The water and heat will soften dead cells that have accumulated on your skin, making them easier to eliminate. »
Try to exfoliate three times a week. But even if you only do it once a week, you'll still notice positive results.
What products do you need to exfoliate?
Exfoliating creams and gels are sometimes enriched with active ingredients that can get rid of makeup residue and dead cells through a chemical reaction. Look for creams and gels with small microparticles, and stay away from those with larger particles because these tend to cause tiny lacerations on the surface of the skin.
Practical and cost-efficient, an exfoliating body glove is a beauty tool designed for shower use. You can use it on its own or with an exfoliating body gel or cream.
How to exfoliate
Apply the scrub on your body, or wet your skin if you're using a glove.
Start scrubbing at your feet and ankles using a gentle circular motion. Then make your way up your body to boost your microcirculation to the fullest.
Exfoliate your entire body, and pay special attention to drier regions such as your knees, elbows and heels. Target problem areas where cellulite can appear such as your buttocks and thighs.
After each use, make sure to wash the glove with warm water and soap, then hang to dry to prevent the proliferation of bacteria and mould.
Do not:
Exfoliate a wound or an area that is irritated or has just been waxed. Wait at least 24 hours after waxing to use a scrub.
Avoid sources of heat, such as hot tubs and saunas for a few hours after you exfoliate; don't take a shower with very hot water.
Be careful when you exfoliate your upper chest because the skin there is thinner and more delicate, just like the skin on your face.
Essential products!
Here are some accessories that will help you get the most out of your exfoliation routine!
The RenaissanceTM glove, sold at Brunet, is made of plant cellulose derived from eucalyptus and spruce. It has unique microscopic woven fibres designed to tone and regenerate your skin. The glove now comes with an accessory that also allows you to exfoliate target areas. As a bonus, it's easy to clean because you can throw it in the washing machine. We love it!
After you exfoliate, try Lierac Hydra Body Lotion. Its milky formula releases a delightful aroma of almond milk, litchi, coconut and vanilla. This lotion will moisturize and pamper your skin to make it soft and silky.
Submit your questions and comments to us, and don't hesitate to ask your Brunet beauty consultant for advice. She'll help you find the right exfoliating product!
My favorite products:
Glove RenaissanceMC
Hydra body milk Lierac
Cindy Laverdière | Follow my blog
For me, beauty is all about well-being. That's why my beauty routine is composed primarily of natural ingredients that are gentle on my skin and on the environment. I'm addicted to coffee, Wi-Fi, maxi dresses and lemon pie. A product I can't live without? Concealer. A must-have for the new mom that I am!