---
Cindy Laverdière, beauty blogger
---
Pampering yourself with a spa session is a great way to relax! And you can now do so without having to leave home or spend a fortune. In fact, a home spa session can provide you with the beauty benefits and relaxation you need without the steep bill. What could be better?
Before you begin, you need to know that the perfect spa session has everything to do with the five senses. Get rid of any distractions in your bathroom and treat yourself to a moment of tranquility and relaxation so you can efficiently recharge your batteries. Here's how to create a perfect spa session in the comfort of home.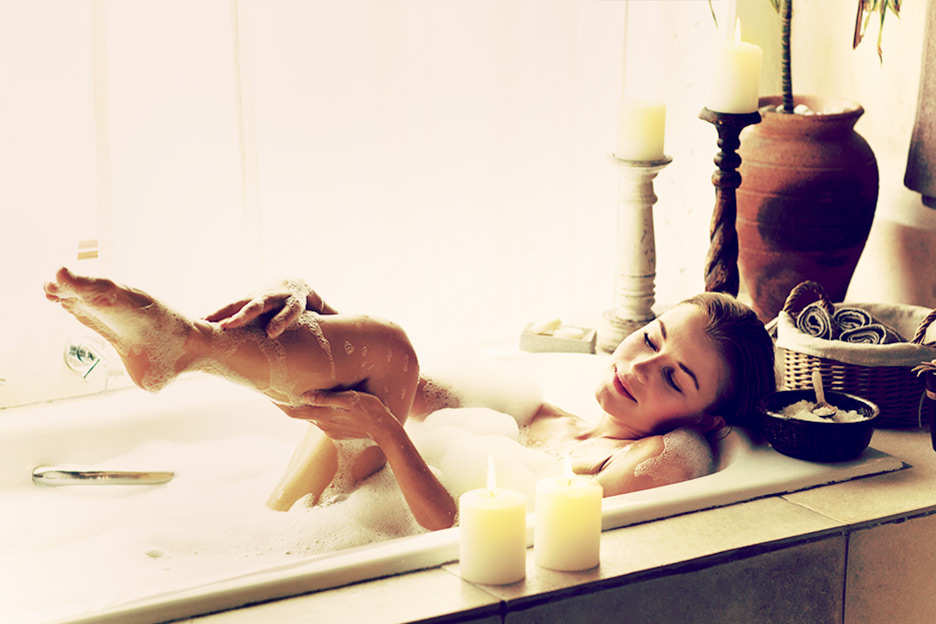 Create a visually relaxing ambiance
Dim the lights and light a few candles. With soft lighting, even the ugliest bathroom can instantly become a relaxing haven. A plant will also add positive feng shui energy and enliven the space.
Enjoy a soothing melody
It's important to choose the right soundtrack for your spa session. Put some gentle and calming music on or listen to sounds inspired by nature to melt away your troubles and tension.
« Be careful when choosing your scented bath products because fragrances can affect your mood.»
Use comforting aromas
Fragrances can alter your mood. The brain responds to pleasant scents by releasing endorphins, which will make you feel calm and relaxed. Carefully select the scent you want: lavender floral water or bath salts for relaxation, citrus or eucalyptus oil or bubble bath to recharge your batteries.
Sip on a relaxing elixir
Herbal tea, a glass of wine and even sparkling water are all excellent to drink while soaking in your bath or once you've stepped out of the shower.
« For a soothing bath, add 20 drops of essential oil to one cup of Epsom salt for a truly soothing effect. Relaxation guaranteed!»
The final touch
Use a body scrub to stimulate blood circulation before you take a bath or while you're in the shower. Start with your ankles and then make your way up to your heart using circular motions. While you're in the tub, apply a rich, calming or moisturizing face mask and give the ingredients a few minutes to work their magic before you rinse.
Keep your softest towels nearby for when you step out of the tub or shower. Cover your entire body with body lotion, balm or butter to lock the moisture into your skin.
Take your time. That's the key to a great spa session. Savour each moment; your mind and body will thank you!
Have any questions? Ask our Brunet beauty consultant. She'll help you find the right skincare products to help you weather winter beautifully!
Cindy Laverdière | Follow my blog
For me, beauty is all about well-being. That's why my beauty routine is composed primarily of natural ingredients that are gentle on my skin and on the environment. I'm addicted to coffee, Wi-Fi, maxi dresses and lemon pie. A product I can't live without? Concealer. A must-have for the new mom that I am!