---
Cindy Laverdière, beauty blogger
---
Doing the perfect makeup for your lips means more than applying color! Many steps are necessary to get an impeccable smile. Want to discover them? Grab your makeup bag and follow my tips!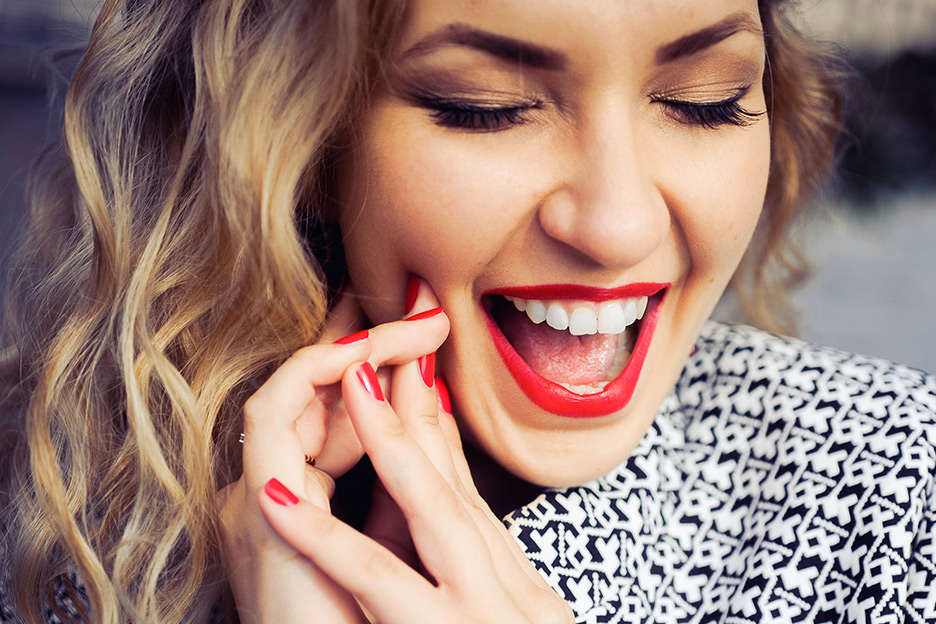 The importance of healthy lips
It's hard to apply makeup on dry, chapped lips. That's why it's so important to pamper your lips. Lips are in fact very fragile. Their epidermis is thinner than the skin on your face, and they're constantly exposed to aggressors such as wind, sun, pollution and cold. And if that wasn't enough, many of us spend our time biting and licking our lips!
A gentle scrub will help you get rid of dead cells. Make sure to get one that is specifically designed for lips, or use a toothbrush with soft bristles. Proceed with caution. If you exfoliate too aggressively, you'll do more harm than good.
Make your own lip scrub by mixing coconut oil and sugar. Gently rub on dry areas using circular movements.

Moisturize
Healthy, smooth lips will make it easier for you to apply your lipstick and result in a more radiant colour.
Moisturize your lips with a hydrating cream or nourishing and hydrating balm. I always make sure to keep a lip balm within reach: in my coat pocket, in my favourite purse, on my nightstand, at the office, in the bathroom…everywhere! That way, I can easily keep my lips moisturized throughout the day.
"Are you addicted to lip balm?" you ask. No. It's perfectly normal to need to reapply lip balm more frequently at certain times of the year because of varying weather conditions. Pay attention to how your lips feel, and care for them accordingly. Make sure to avoid licking them because saliva tends to dry skin and can make it crack.
« Reminder: Dry lips that crack can be a sign of dehydration. Make sure to drink enough water to keep your lips soft and plump. »
An explosion of colour!
Now that your lips are exfoliated and moisturized, you're ready for some colour.
Pro tip: Before applying your colour, stretch the skin on your lips by smiling as much as you can while keeping your mouth closed. Doing so will keep your lips from moving, so you can apply your lipstick with quick precision!
After applying your lipstick, place a tissue between your lips and press your lips together gently to help seal in your colour. For a more intense result, apply a second layer of lipstick and repeat the process.

Camouflage yellow teeth
In magazines, on television, in your favourite blogs, everyone seems to have perfect teeth that are straight and bright white.
Beauty tip: Use a red lipstick with blue undertones to make your teeth appear whiter.
In real life (without Photoshop), things look a bit different. If you want to conceal yellow teeth, use cooler shades on your lips. For instance, a red with blue undertones will make your teeth seem whiter. Avoid warm colours like orange or dark red.
Now that you've got the lips you want, you'll be able to show off your gorgeous smile!
Have questions? Don't hesitate to share them with me here or on Brunet's Facebook page or consult your Brunet beauty consultant to find the products that suit your needs.
Source : Les lèvres, l'élément le plus sexy des femmes (20 minutes)
(*Available in French only )
Cindy Laverdière | Follow my blog
For me, beauty is all about well-being. That's why my beauty routine is composed primarily of natural ingredients that are gentle on my skin and on the environment. I'm addicted to coffee, Wi-Fi, maxi dresses and lemon pie. A product I can't live without? Concealer. A must-have for the new mom that I am!