The transition from cold temperatures to warm days does not only require a clothing transition between winter and summer. And although lipstick use has decreased with the use of the mask, the pleasure of looking good and taking care of yourself is still very present!
Bike ride, barbecue in the garden, teleworking without air conditioning... Here is a few beauty faux pas to avoid this summer, as well as advice on how to adapt your makeup and skincare to the new temperatures.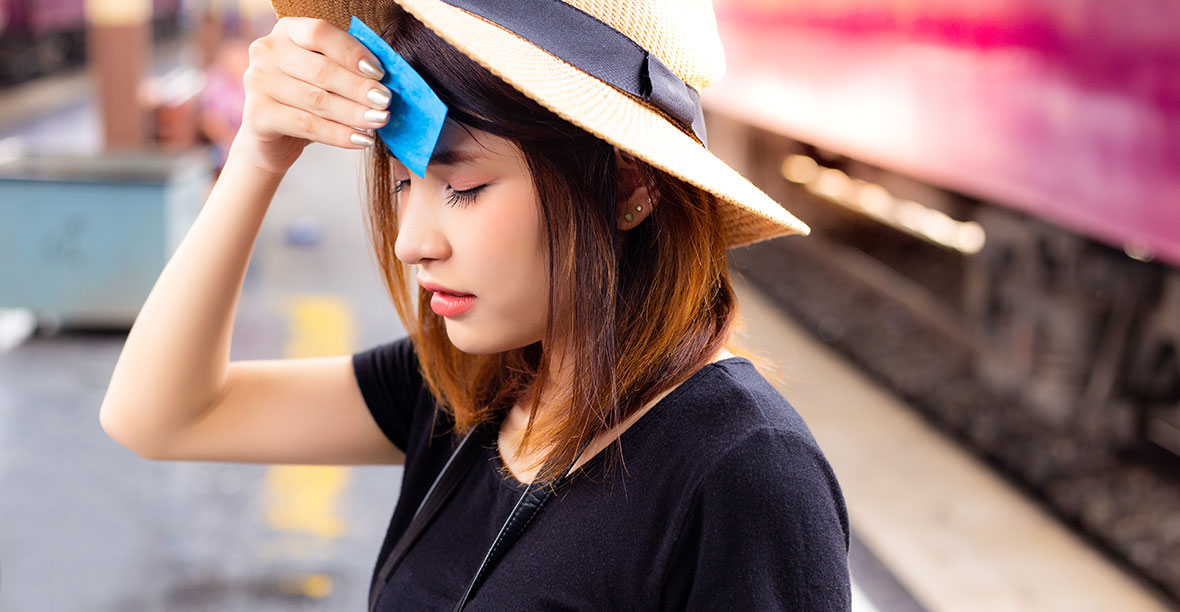 Apply the same shade of foundation as in winter
In most cases, the foundation you wear in winter is lighter than your summer tan. Adjust the shade of your foundation to your tan. Also, consider your skin's health by picking a product that offers an SPF 20 (or higher) to shield you from the sun's rays.
Our cosmeticians are here to help you find the product that suits your skin type and colour, depending on the season. Don't hesitate to seek their advice!
To much bronzer
How nice it is to have a lovely tanned complexion in summer! Some people enjoy enhancing the glowing effect that a tan adds to the face with a bronzer. But don't overdo it to be sure you don't look like a Christmas ornament!
Ignoring temperatures
During the summer, several factors can affect the hold and quality of your makeup:
Heat, which can reduce the quality of your products.
Drops of sweat (and their acidity) that can make your makeup migrate.
Wearing glasses, a hat or a face-cover that facilitates the transfer of makeup.
To get over these slight issues, you can use lighter makeup and waterproof makeup, and a translucent pressed powder.
Wearing too much blush
After the Christmas ornament look, the clown look! Go light on the blush this summer. Your cheekbones will turn pink with the least effort because of the sun's rays.
This is a perfect time to try a peach or an apricot shade. Remember to blend correctly!
Forget to store your makeup in a cool place
If your beauty products are exposed to the sun or too much heat, their properties can be affected. Forget about moisturizing cream on the window sill!
Avoid wax-based products that melt in the sun, or when they are exposed to too much heat, their properties can be affected.
Your Brunet beauty expert will be able to advise you on the most suitable beauty product for your skin type and beauty routine.
Also, to be read :