Cleansing is the most important step to masculine beauty. Make sure you know how to do it properly.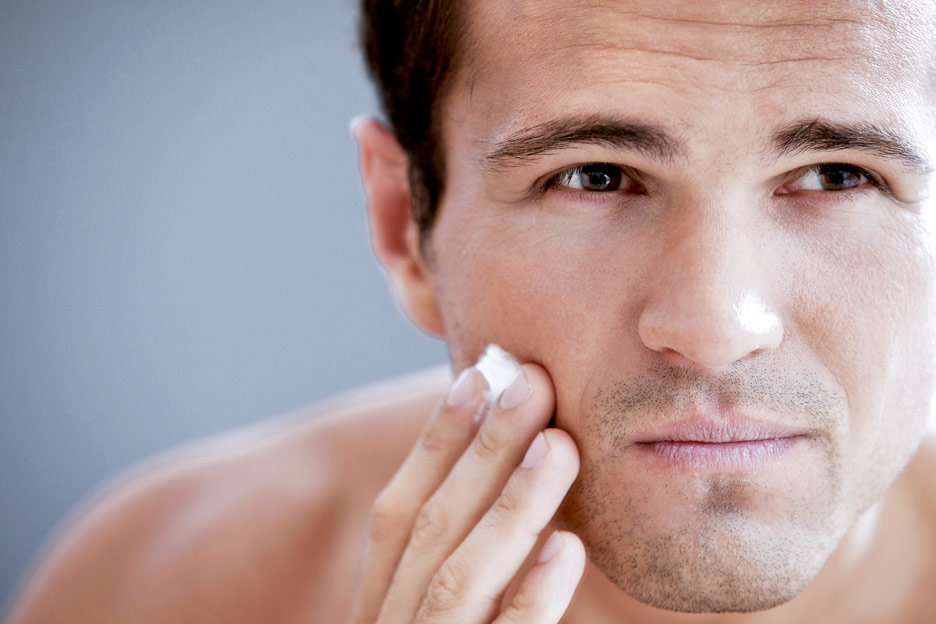 Men need their own cleansers.
Men's skin differs from women. Men's skin is thicker due to increased collagen in the dermis (middle layer of skin). Men have larger pores and very active sebaceous glands. While these glands and the oil they produce keep men's skin looking younger longer, they can also go into overdrive and cause oily, shiny skin, clogged pores, blackheads and blemishes.
This is why cleansing is the basis to every man's skin care routine.
Forget that bar of soap
Bar soaps are not ideal for facial cleansing because they contain harsh detergents that can dry out facial skin, which in turn can make a man's skin produce more
oil or leave drier skin parched. It's important to choose the right cleanser and technique to leave your skin purified and healthy.
Gel Cleanser
Gel cleansers are light, refreshing and often contain cooling agents like mint, tea-tree or aloe vera to calm irritations and keep oil in check.
Cream Cleanser
If your skin is normal to dry, a cream cleanser is ideal to gently exfoliate and cleanse. It leaves skin soft, smooth and supple. Look for a formula that is non-comedogenic, which simply means it is formulated with ingredients that will not clog your pores.
Foaming Cleanser
These products remove excess sweat, dirt and oil with a deep cleansing action that also helps to lift beard hairs, preparing your face for a close, comfortable shave.
Exfoliating Cleanser
Exfoliating cleansers are available in gel or cream form. They can contain small micro-beads that remove impurities embedded in clogged pores and blackheads. They may also feature a concentration of sloughing ingredients like glycolic acid to exfoliate skin, smoothing out rough skin texture and reducing the appearance of fine lines.
Detoxifying Cleansing Mask
A clay-based mask is a great once or twice weekly addition to a masculine cleansing routine. Ideal after a hard workout or before a big night out, a mask is easy to use and very beneficial to your skin. Most need to be applied and left on for a mere ten minutes to work their magic.
Some tips for first-time clay mask users:
To maximize a mask's benefits, use after an exfoliating cleanser.
Use mask sparingly, once or twice weekly is enough.
Avoid the eye contour area, where skin is thinner and more fragile.