You have acneic, sensitive or dry skin? Skincare and makeup can be your beauty allies! You have to choose the appropriate products and follow a beauty ritual that suits your reality.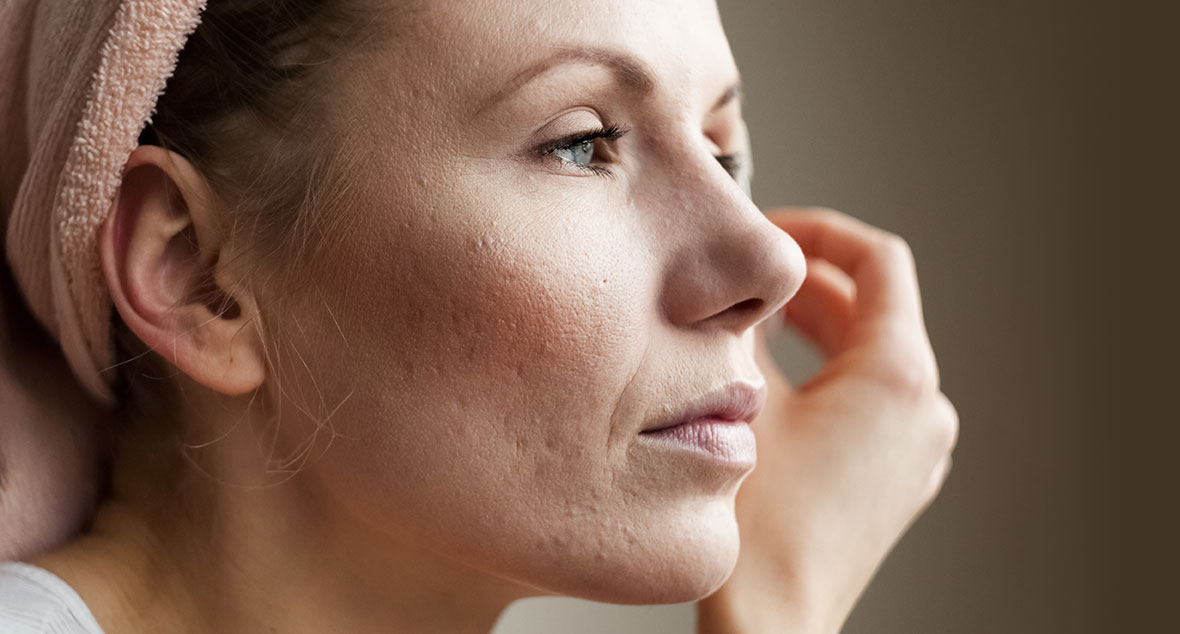 How to take care of acne?
Just because you have acne doesn't mean you can't wear makeup. Of course, you must avoid touching your skin and piercing your pimples to worsen the acne. Here are a few habits that can help:
Pick products that cover and correct, but don't use oily substances (your skin already produces enough sebum!).
Cleanse your skin every morning and evening.
Avoid irritating products and aggressive gestures.
Don't confuse "moisturizing" with "nourishing" your skin (products that are too thick can lead to clogged pores).
Hide redness with a green base.
Opt for tinted, conditioning cosmetics.
Gently cleanse your skin with clean hands, rather than a rough wipe.
If your skin is oily and blackhead-prone, a purifying cleansing gel might help to mattify it or even treat moderate acne.
Consult our beauty experts or a dermatologist if your acne gets too much to handle.
Further advice specific to acne-prone skin:
Dry skin: What to do about it
Does your blush rarely last? Does your foundation look like a cracked wall after application? Your skin peels easily? Perhaps you have a dry skin problem.
Regardless of the season, makeup application can cause discomfort if you are experiencing all of these symptoms. So say goodbye to itchy, flaky skin with these tips!
Keep hydrated! Drink more water and incorporate products formulated for this skin condition as part of your beauty routine.
You may have acne-prone skin on your chin and dry skin elsewhere on your face. So, spot the areas that need to be moisturized and then apply the products topically.
Go for a moisturizing lipstick with a light texture.
Swap foundation for a CC Cream
More advice from our cosmeticians on how to get rid of dry skin:
How to treat and make up a sensitive skin?
Do you have sensitive skin? Here are a few tips to reduce redness, decrease skin reactions and preserve the skin from external aggressions:
Test the products before you use them completely (some samples can be requested from our cosmeticians, feel free to ask in-store for more information).
If you are aware of the specific allergens you are sensitive to, remove them from your beauty kit.
Remember your magic words: "hypoallergenic", "non-comedogenic", etc.
Look for specialized brands in both makeup (e.g. Marcelle) and skincare (La Roche-Posay, Vichy, etc.).
Hygiene = your motto. Keep your hands clean at all times when applying and removing makeup and when handling products. The same goes for your brushes!
Of course, always store your products at the proper temperature and never use them if they have expired!
Other tips from our cosmetics specialists to overcome dry skin:
An essential beauty gesture, no matter what your skin type: makeup removal
Before going to bed, take the time to remove your makeup to ensure your skin's health and prevent minor imperfections from getting worse. For even more effectiveness, cleanse yourself with a clean washcloth or with a cotton pad soaked in makeup remover. Make small circles to get rid of persistent makeup.