Spring has sprung! That means it's finally time to enjoy the outdoors and get some fresh air. But don't underestimate the strength of the sun—you need a good sunscreen to protect your skin. Here are a few tips to help you choose the right SPF product for your skin type.
What are the rays?
Two types of ultraviolet rays are harmful: UVA and UVB. UVC rays, on the other hand, are filtered before they reach us.
UVA rays may give you a nice tan, but you should be careful. These rays penetrate deep into the skin and cause signs of aging such as wrinkles. They also break down collagen.
UVB rays are much less abundant, but they're still dangerous. In fact, they're responsible for sunburns and are capable of producing huge quantities of free radicals, which can cause several diseases, including skin cancer.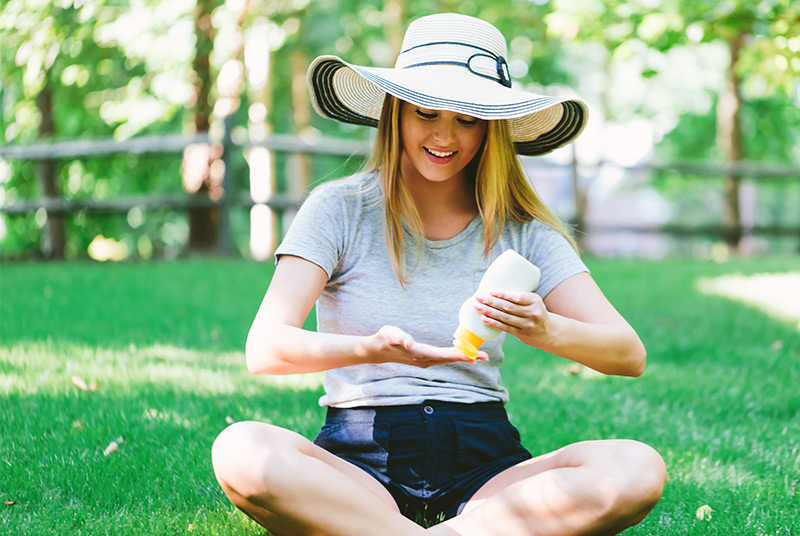 Understanding SPF
The Sun Protection Factor (SPF) is a number that indicates the percentage of UVB rays blocked by your sunscreen.
| | |
| --- | --- |
| SPF | Protection |
| 8 | 87.5% |
| 15 | 93% |
| 30 | 97% |
| 45 | 98% |
| 60 | 98.3% |
As you can see, there isn't a big difference between an SPF of 15 and 60, but these percentages are relevant during prolonged sun exposure, which is often the case whenever we practise sports. What's more, sweat makes sunscreen less effective. Make sure to reapply your sunscreen regularly whenever you're being physically active.
How to choose and apply a sunscreen
Choose an SPF of 30 or higher. Go up to 60 if you anticipate prolonged exposure to the sun.
Make sure to choose a product that's effective against UVB and UVA rays.
Look for Mexoryl and Tinosorb in the ingredients.
Choose a water-resistant product whenever possible. This is non-negotiable if you're planning on practising water sports.
Re-apply sunscreen after being in the water.
Apply a generous amount of sunscreen (we rarely use enough) at least every two hours.
To ensure you're making the right choice, ask one of our in-store cosmet specialists.
Choose the best sunscreen for your skin type
DRY SKIN
The creamier the formula, the happier your skin will be. Look for a moisturizing sunscreen that has a creamy texture, rather than a gel-like or dry-touch texture. This will help keep your skin supple and soft all summer long. The same holds true for fall, winter, and spring because you need to protect your skin from the sun's rays year-round.
OILY SKIN
To tone down shine, choose a light, oil-free sunscreen, and look for a mattifying formula that will absorb excess oil throughout the day.
ACNE-PRONE SKIN
If your skin is acne prone, the wrong sunscreen can clog your pores and cause breakouts. For this reason, keep an eye out for the term non-comedogenic, which means the product is specially formulated not to clog pores.
SENSITIVE SKIN
If you have sensitive or reactive skin make sure to choose a sunscreen with an SPF of at least 40. You should also check the ingredients list and ask your pharmacist to help you choose the best formula for you. Tip: Sunscreen formulas specially designed for babies work just as well for adults, while being more gentle on the skin.
ANTI-AGING
In addition to protecting you from skin cancer, a good sunscreen is also the most effective way to fight against the signs of skin aging. It's especially important to prevent UV rays from damaging collagen and elastin, but it can also help repair existing damage. Sunscreen and antioxidants work together to neutralize free radicals (molecules of mass destruction released by UV rays) and minimize skin cell damage.
DARKER SKIN
Most sunscreens are thick and white. They aren't absorbed by the skin very well and can make dark skin look ashy. The best formulas for darker skin are lightweight, easy to apply, and should be completely absorbed by the skin, ensuring your SPF is invisible after application.
Protecting young children
Keep in mind that sunscreen shouldn't be applied to babies under six months old. Instead, make sure to cover their fragile skin with clothing if you must go out in the sun. But why take any chances? Keep them in the shade!
Last updated on May 12, 2022