Summer is here with its abundance of fruits and vegetables! Why not take the summer to change your eating habits and discover new flavours? Here are five right foods for your health to put on your plate.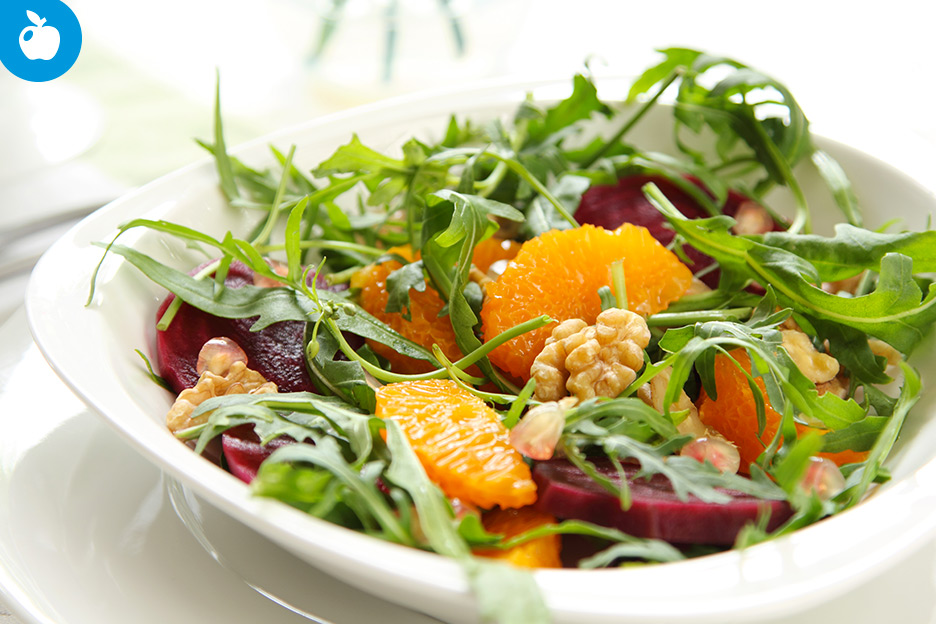 Beets
This vegetable, which grows easily in Quebec, has high antioxidant power. Antioxidants are compounds that protect body cells against damage caused by free radicals. Beetroot is also one of the few plants to contain battalions, a family of pigments consisting of powerful antioxidants. They also contain flavonoids: compounds with similar effects.
In the kitchen
Intensely coloured, beets will automatically beautify your summer dishes! You can bake it in the oven (whole, diced or sliced), let it simmer in a rich vegetable soup (like borscht, it can even be eaten cold), boil or steam it until tender, or even marinade it. Know that, whatever the cooking method used, it is best to cook beets with its skin in order to retain maximum nutrients. And, please, don't throw away the leaves! They are delicious and can be cooked in the same way as spinach.
Blueberries
As antioxidants superstars, the consumption of these berries could help prevent many diseases. The blueberry is indeed one of the most antioxidant-rich fruit. This berry contains, among others, flavonoids (anthocyanidins and proanthocyanidins in particular) that help prevent the onset of cardiovascular disease, certain cancers and various chronic diseases. It is also rich in vitamin C. Fact: wild blueberries have increased nutritional value compared to cultivated blueberries.
In the kitchen
During the summer, why not colour your plates with this berry that is also great for your health? At lunch, make your cereal more nutritious - and certainly more delicious! - by garnishing with blueberries. Add it to your smoothies to give them extra flavour. You can also use them in your French toast or pancakes mix. And why not think outside the box by adding blueberries to salads and appetizers? These berries also add a twist to main dishes. Try them in chutney or as a side to pork tenderloin or chicken breast.
Cauliflower
Often neglected in favour of broccoli, cauliflower is a very healthy vegetable that you should eat more of. It also has many health benefits. Just like broccoli, cauliflower belongs to the cruciferous family, a family of plants specifically recognized for its protection against cancer. This vegetable contains sulforaphane, and indoles, phytochemicals which have beneficial effects against different types of cancer, like lung and ovarian cancer, among others. It is also rich in Vitamin C, as well as in several minerals and micronutrients.
In the kitchen
Cauliflower has the advantage of being very versatile. You can prepare it in many different ways: cooked, raw, in salads, as a side dish, au gratin, soup or mashed. Also, did you know that you can find green, purple and even orange cauliflower? Lots of pretty colours will brighten up your plates.
Zucchini
This vegetable belongs to the Cucurbitaceae family, like melon and cucumber. Packed with vitamins, minerals and antioxidants that help you stay healthy. It is also rich in lutein and zeaxanthin, two compounds of the carotenoid family that protect against certain eye diseases like cataracts and macular degeneration. So many good reasons to include it in your menu!
In the kitchen
Zucchini / summer squash can be eaten cooked or raw. Versatile, it lends itself perfectly to soups, stir-fry or marinated meat dishes. Sliced and coated with oil, it fits perfectly on the BBQ grill and is a simple and delicious solution for impromptu dinners with neighbours or friends. You can also try it raw and simply accompanied by a dip hummus, tzatziki or tofu spread.
Muskmelon
Rich in water, this refreshing fruit belongs to the Cucurbitaceae family, like squash and pumpkins. Its name comes from the sweet fragrance of the ripe fruit. It is the most nutritious of all melons, thanks to its coloured flesh rich in beta-carotene. Remember that beta-carotene is a precursor of vitamin A, which is important for vision, cell growth and immune system. Of all fruits, the muskmelon is also one of the richest in vitamin C – an essential to our health. It also provides good amounts of potassium and folic acid. So feel free to add it to your plate!
In the kitchen
Erroneously named cantaloupe in Quebec, muskmelon is delicious for breakfast, as a snack, a dessert and even in a drink! Combine it with prosciutto and feta cheese. Success guaranteed!
Certain products, foods or changes in lifestyle may not be appropriate for you. Always consult your pharmacist or a healthcare professional.