At HappyFitness, we make it a duty to tell everyone who wants to listen that, while it's important to exercise every day, you don't have to WORK OUT at the gym every day to be physically active. We encourage people to get moving by changing their commuting habits, interrupting their workplace inactivity (here are a few tips) and choosing active hobbies. Here are several ideas to stay active this summer! It's easy to stay motivated when you're having fun!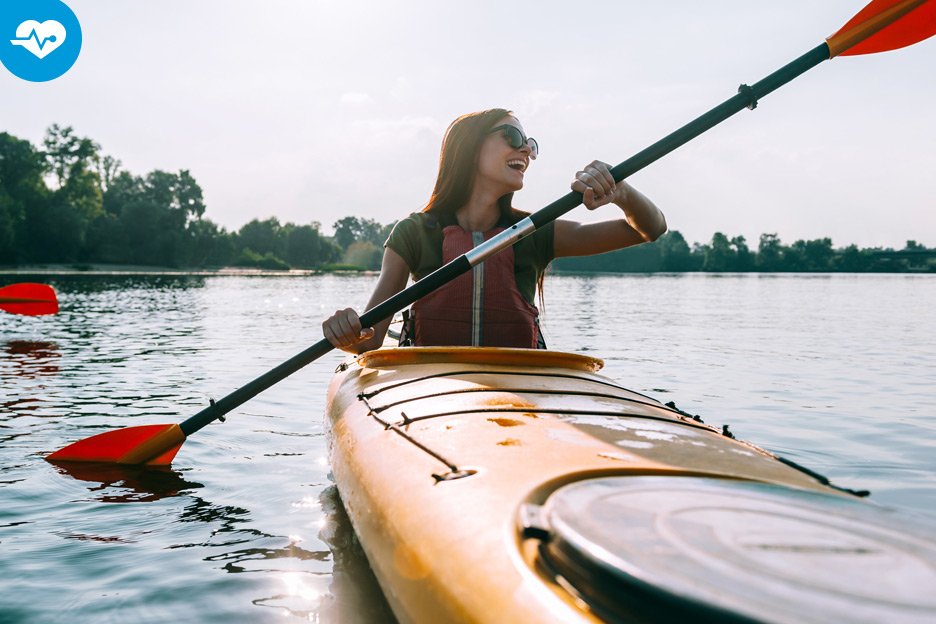 Let's start with a few outdoor activities since summer is made for enjoying beautiful weather!
Nighttime stand-up paddleboard (SUP)
Every full moon or new moon during the summer, H2UP organizes a stand-up paddleboard trek to admire the stars. H2UP's instructors will accompany you during a 2-hour trip on the water to the sounds of good music! Once back in the bay, you'll be able to sit down and admire the landscape. You'll feel relaxed and have worked on your balance, your arms and stabilizing muscles. Note that all H2UP's activities take place in Vaudreuil-Dorion and include a paddleboard and lifejacket!

Mountain biking
Are there spots in Quebec where it's possible to combine biking and outdoor fun, even without any mountain biking experience? According to Maghalie Rochette, a mountain biker from the Laurentians, Mont-Sainte-Anne and Bromont are excellent places to get a taste of the sport. You'll find beginner trails, and you'll be able to rent all the necessary gear! You can sign up for lessons, so even if you're a novice you can try it out!
Via Ferrata/Canyoning
This is a safe activity that's sure to please adventure seekers. Hikers make their way along mountain trails, while affixed to cliffs, in some of the most beautiful areas in Quebec! You can choose the level of difficulty, and you'll be accompanied by certified guides. It's an excellent, creative way to get moving and to experience a new activity. For more information and to find the areas where you can practice this sport, visit Via Ferrata Québec's website (in French only).

Canoe-camping
I tried this activity for the first time last summer with my mother and sister! It was so much fun and a lot more accessible than you might think! You'll strengthen your arms as you make your way to a magnificent, isolated campground. And, if like us, your paddling technique isn't up to par, you'll be able to enjoy your time on the water a bit longer!
Visit the Sépaq website to discover where you can go canoe-camping.

Urban adventure courses (Voiles en Voiles Montréal)
An outdoor activity for the whole family in the heart of the city! Voiles en Voiles is located in the Old Port of Montreal and offers 7 adventure courses for every age in a life-size replica of a ship. Open every weekend until May 29, then every day after that, anyone can pretend to be an agile pirate for a day! Visit Voiles en Voiles' website for more information!
Because you need to move every day, rain or shine, here are a few activities that are perfect for when the weather doesn't cooperate.
Baseball
If you're a baseball fan or simply want to unwind, head to the batting cages at Coup Sûr. They have pitching machines for baseball and softball, and the speed (level of difficulty) is adjustable.
Trampoline
If you're feeling full of energy, spend a day at a trampoline centre! Nothing will boost your mood like bouncing around with your friends and family! iSaute offers several family activities and courses for everyone. Visit their website to learn more about their centres, schedules and rates!

Ice skating (yes, even in the summer!)
During a heat wave, an ice rink is an exotic venue! Bring the entire family to skate at l'Atrium Le 1000 in downtown Montreal! You'll be able to rent skates and stay cool while having fun!
Finally, to make sure your summer activities occur without a hitch, follow these tips to get the most out of your summer sports.
Visit Brunet's Facebook page, and share the activities you want to try, or even better, the ones you've already tested! Have a great summer!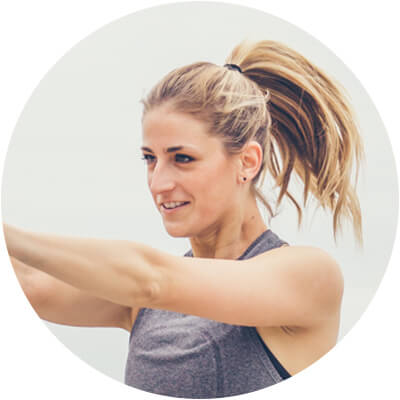 Chloé Rochette, Personal Trainer | HappyFitness
Sport has always been a part of Chloe's life and she became a coach to share, with as many people as possible, the happiness it has brought to her. A dancer, skier and former triathlete, she is now a personal trainer and founder of Le Mouvement HappyFitness—a company with which she hopes to make a difference in people's lives by showing them the joys of being active and healthy.