Have you decided to quit smoking but are afraid you won't be able to stop? Fortunately, there are many products that can help you. By using a smoking-cessation product, such as a nicotine-replacement therapy, you optimize your chances of success!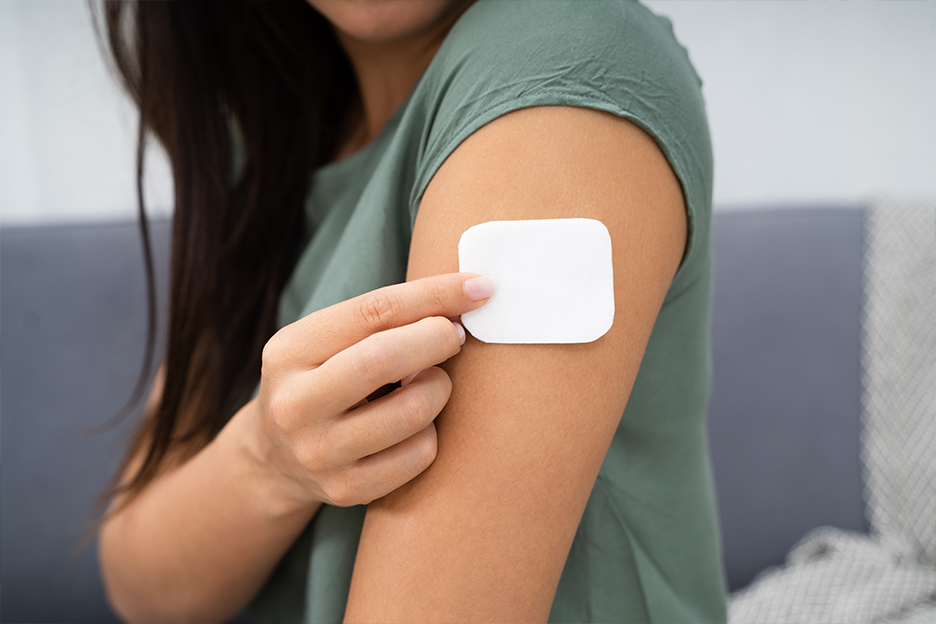 What are nicotine-replacement therapies?
When you stop smoking, your body is suddenly deprived of nicotine, which is a substance found in cigarettes that is strongly addictive, both physically and psychologically. Such withdrawal brings about several unpleasant symptoms, such as insomnia and irritability.
Nicotine-replacement therapies are designed to reduce the body's nicotine intake in a gradual manner, without subjecting it to all the other noxious substances contained in cigarettes. This type of treatment eases the smoking-cessation process by minimizing the unpleasant symptoms of withdrawal and reducing the desire to smoke.
Certain precautions must be taken whenever you use nicotine-replacement therapies. If you have health problems, take medication, are pregnant or breastfeeding, speak with your pharmacist to find out if these therapies are right for you.
Patches
Nicotine patches are a popular choice among smoking-cessation products. To find out more about this option, click here.
Gum and lozenges
Nicotine gum and lozenges are designed to replace cigarettes when you feel like smoking. The number of gums or lozenges you take every day should gradually decrease over a period of 3 to 6 months.
In addition, you should read the instructions for use for these products carefully to avoid taking in too much nicotine too quickly, which may cause side effects. That would be the case if, for example, you used nicotine gum as if it were regular chewing gum without observing the "breaks" as recommended by the manufacturer.
You must not use more than 20 gums per day, regardless of the dose. As for lozenges, don't use more than 15 a day for 2 or 4-mg lozenges or 25 a day for 1-mg lozenges. Gum and lozenges are not appropriate for patients who have serious mouth or dental disease.
Inhaler
This product consists of a plastic tube in which a nicotine cartridge is inserted. By inhaling through the mouthpiece, you get a dose of nicotine steam. Using the inhaler is similar to handling a cigarette. In the first 3 months of use, you can use between 6 and 12 nicotine cartridges a day. In the 3 following months, the number of cartridges used must gradually be reduced to zero.
The nicotine inhaler is counter-indicated for people who are allergic to menthol. In addition, if you have respiratory problems, such as asthma or chronic obstructive pulmonary disease, you must be cautious when using this product.
Spray
You can use this product to spray a small quantity of nicotine in your mouth when you feel like smoking. It provides quick relief to your cigarette craving.
One or two sprays can replace a cigarette. You shouldn't exceed 4 sprays per hour or 64 sprays per day. You should aim for a gradual reduction in the number of sprays over a 3-month period.
One of the main advantages of this nicotine-delivery system is that it's simple to use.
Some advice:
To get the greatest benefit out of your nicotine-replacement therapy, follow these tips:
Follow the manufacturer's instructions for use as well as your pharmacist's
Respect the dosage: don't take more than what is recommended. If you use gum, lozenges, an inhaler or spray, keep in mind that you must gradually reduce the dosage – not increase it!
Whatever smoking-cessation method you use, make sure you use it for at least 12 weeks. Multiple studies have shown that effective smoking-cessation approaches take at least this much time
If you've decided to stop smoking using a nicotine-replacement therapy, you must stop smoking cigarettes. Get rid of your cigarettes! If you feel an irresistible urge to smoke, use gum, lozenges, an inhaler or a spray. This is much better than smoking a cigarette if you're aiming for success over the long term
The right choice
Before using one of the products described above, speak with your pharmacist. She can help you make an informed decision by explaining each product's particular properties. In addition, she can tell you how to use the various products and describe their potential side effects. Some of these products are covered by insurance when they are prescribed. If your pharmacist has a group prescription for smoking cessation, she can prescribe the product of your choice if you meet the eligibility criteria. If not, please know that these products are sold over the counter at your pharmacy.
Choosing the right product can really help you to succeed. Take advantage of your pharmacist's availability and knowledge for smoking-cessation products to get all the information you need and quit smoking for good!