Looking for a gluten-free product? Read the list of ingredients carefully—gluten is hidden in words like wheat, oats and rye.
Not long ago, only a handful of people had heard about gluten. Now, because of the health problems associated with it, "gluten" has become the latest buzzword. What's it all about? Is it used in cosmetics? Read on for some answers...
What is gluten?
Gluten is a plant protein found in cereal grains like wheat, rye and barley. It's what gives dough its elasticity. It is estimated that a small percentage of the population has a gluten intolerance (estimates range from 1 in 300 to 1 in 500 ). Also called celiac disease , this intolerance leads to poor nutrient absorption, resulting in nutritional deficiencies. The symptoms are numerous and the consequences can be extremely serious, possibly even leading to cancer, according to some studies.
The only known treatment for celiac disease is maintaining a strict gluten-free diet for life. However, gluten is everywhere—even in cosmetics.
A marketing gimmick?
Opinions differ greatly on the opportunity to market gluten-free cosmetics. Even if your favourite shampoo contains gluten, the risks of ingesting any of it are rather slim. Some observers believe that cosmetics companies are taking advantage of the trend and adding "gluten-free" to their products for purely marketing purposes. Others argue that studies on celiac disease are still at a preliminary stage. And since the phenomenon is still poorly understood by medical science, it's better to not take any risks, especially since the consequences could be serious.
For others, it's crystal clear—the proof is there: gluten is the reason for their ailments, making complete and total avoidance essential. As you can see, opinions differ.
Growing in popularity
Pharmacies have noticed growing customer demand for gluten-free cosmetics. Naturally, companies have responded with an increasingly diverse offering. If you are gluten intolerant, we invite you to drop by your local store. Speak to your cosmetician to find out which lines of gluten-free products are available in-store. She can also help you read the labels to detect any possible traces of gluten.
For example, if among the list of ingredients you see the words wheat, barley, oats or rye (or their latin equivalents triticum vulgare, hordeum, avena sativa and secale cereale), beware—gluten is likely present. Whether you're gluten intolerant or simply curious, here are two certified gluten-free products we frequently recommend.
Sitala face cream
The first is Sitala face cream by Zoraha deeply toning, moisturizing product that nourishes the skin and stimulates cell regeneration. You'll also enjoy this cream for its firming and toning sensation.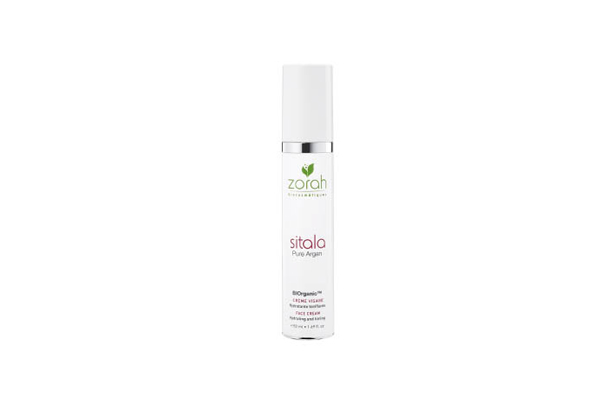 A Marcelle mascara
Marcelle, a brand renowned for the quality of its products, offers a line of gluten-free cosmetics, including Xtension Plus + Prolash Growth Complex Mascara. An earlier version of this product was voted best mascara in the ELLE Quebec/Canada Beauty Grand Prix 2015. This version has been enriched with a conditioner that makes lashes grow faster and stronger. A very good product.