Looking to cut back on alcohol? Great news: there are more and more alternative beverages on the market that are sure to make your life easier. From beer and spirits to mocktails, here are four refreshing non-alcoholic beverages, plus ideas on how to enjoy them. Cheers!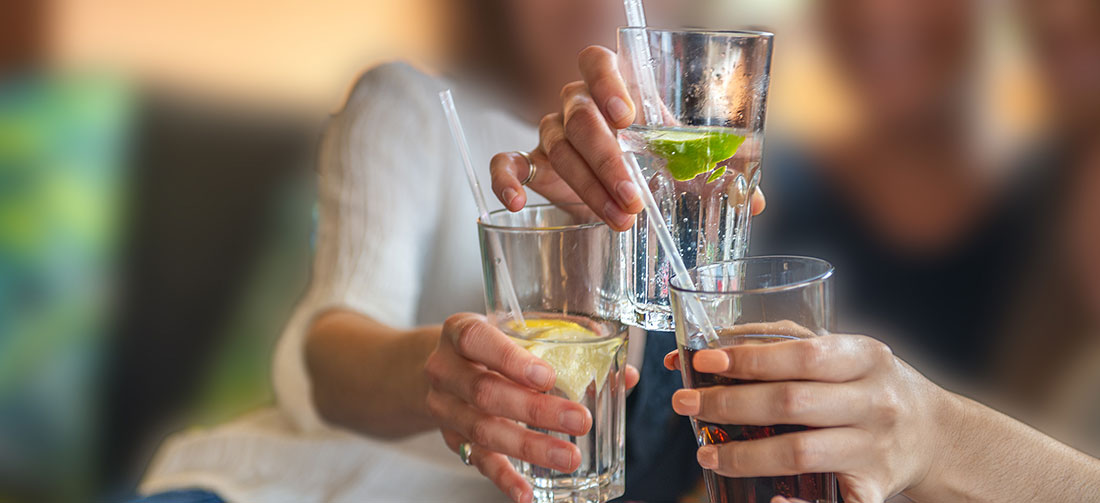 Non-alcoholic beer
A pint of lager with friends before dinner, a glass of red with a comforting meal, a sip of chilled white wine after a long day . . . You can still enjoy these moments without the alcohol!
How is non-alcoholic beer made?
As with non-alcoholic wines, there are many ways to make alcohol-free beer. Sometimes, the fermentation period is shortened to prevent the sugars from turning into alcohol. The liquid may also be heated, filtered, or vacuum distilled to remove the alcohol.
Does it really taste like alcoholic beer?
The different manufacturing processes obviously affect the flavour and dosage of added ingredients, such as carbonation and sugars. Regardless, all zero-alcohol recipes are calibrated to achieve the freshness and effervescence of a good beer.
Non-alcoholic spirits
Rum, gin, and vodka lovers can now stock their bars without alcohol.
How are non-alcoholic spirits made?
An infusion of herbs is distilled with a water-based solution. Alcohol simply isn't part of the manufacturing process.
Good to know
Beverages made in this way have a shorter shelf life than their alcoholic counterparts. It's generally recommended that they be consumed within three months once opened.
What's the best way to consume these spirits?
These drinks don't have the same roundness on the palate as alcohol or generate the same warm feeling, so drinking them alone on the rocks likely isn't the best option. However, their flavours combine easily with tonic waters, fruit juices, and flavoured syrups, making them ideal for mixing delicious mocktails!
Check out these mixed-drink ideas:
Non-alcoholic gin, blueberry or pomegranate juice, lemon juice, and maple syrup
Non-alcoholic rum, apple must, maple syrup, and lime juice
Non-alcoholic vodka, soda, ginger syrup, and lime juice
Not much of a mixologist?
Many classic mocktails also come in ready-to-drink (and low-sugar) versions. A can, an ice-filled glass, and a few slices of fruit are all you need to make a tasty gin and tonic, spritz, mojito, or rum and cola.
Apple must
Bright and sweet, apple must goes perfectly with dessert, adds a festive touch to brunch, and is a great alternative for toasts.
What exactly is must?
Must is apple juice before it's been fermented into cider. Most apple musts are carbonated.
How to drink apple must
There are plenty of options!
Raise a flute of apple must to celebrate important moments with a sober toast.
Combine equal parts must and orange juice for a fresh take on the mimosa.
Enjoy a glass of flavoured apple must, which is almost a mocktail in itself. Start with your favourite flavour (e.g., rhubarb, pear, cranberry), add ice cubes, fruit slices, spices, or fresh herbs, and enjoy!
Kombucha
Morning, noon, or night—there's no wrong time to pour yourself some kombucha, especially when there are so many flavours to try!
What is it exactly?
Kombucha is a fermented, somewhat fizzy drink made by combining bacteria and yeast with tea and sugar (or a natural sweetener, like stevia). The degree of carbonation and the carbohydrate content vary according to the length of the fermentation process.
How to enjoy kombucha
Many kombuchas are already flavoured with fruit, herbs, or spices, so feel free to enjoy a large, chilled glass on its own! The tangy taste also goes great in mocktails.
Here are some suggestions:
Mix mint kombucha with freshly squeezed orange juice, sparkling citrus water, mint leaves, grated ginger, maple syrup, and a pinch of salt.
Combine raspberry kombucha with grapefruit juice, rosemary, and floral tonic water.
Mix ginger kombucha with apple must, fresh cranberries, and cardamom.
Good to know
Because kombucha contains a certain number of microorganisms, it is not recommended for pregnant women as a matter of precaution.
Need advice?
When it comes to supporting your well-being, your Brunet-affiliated owner-pharmacist is always here for you.
Other articles on food (and health!)