For many of us, summer is synonymous with hiking and nature walks. Unfortunately, Lyme disease has been a growing concern in Quebec for the past few years. While there's no need to panic, a little knowledge and preparation can help keep you happy and healthy this summer. Read on to learn more about this disease.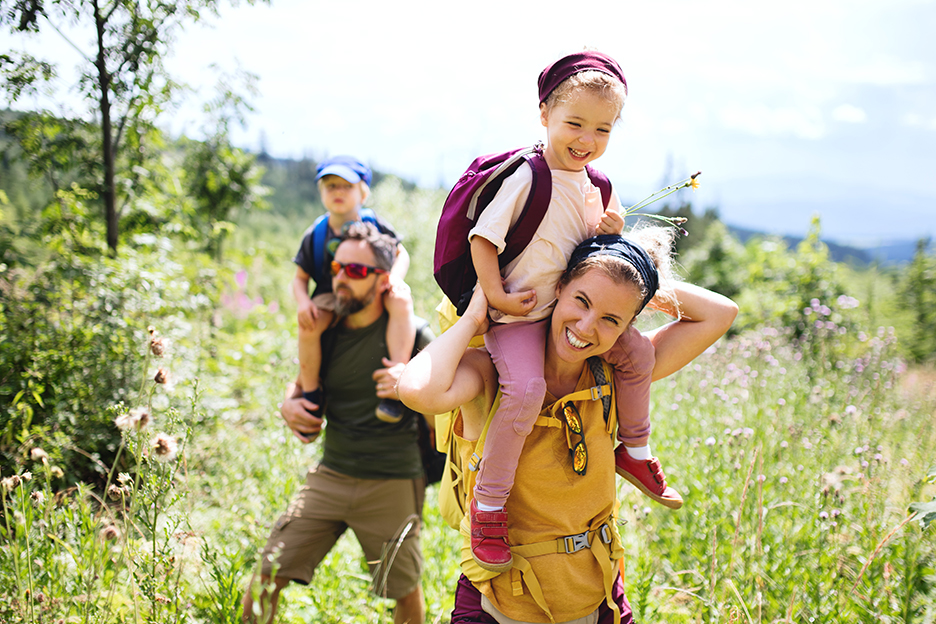 What is Lyme disease?
Lyme disease is an infectious disease transmitted to humans by a bite from a tick infected with a specific type of bacteria. Ticks are small insects ranging in size from a poppy seed to a sesame seed. There are about 20 different types of ticks in Quebec. However, only deer ticks, also called blacklegged ticks, carry the bacteria that cause Lyme disease.

Where do ticks live?
Ticks live in woodlands, tall grass, forests, landscaped areas, and moist places such as leaf litter.
It's important to note that ticks do not jump, fly, or drop from trees or plants. To get on us, ticks must cling to clothing or skin.
In addition, infected people and animals cannot transmit Lyme disease to uninfected people. Ticks are active from early spring, including when snow is still on the ground, until late fall.
Highest-risk regions in Quebec
An area is considered most at risk when approximately 25% of blacklegged ticks carry the bacteria that causes Lyme disease. Rest assured that a tick bite doesn't automatically put you at risk of developing the disease.
Ticks carrying Lyme disease have been reported in the following areas:
Estrie
Lanaudière
Mauricie-Centre-du-Québec
Montérégie
Montreal
Outaouais
Laval
Laurentian Mountains
Symptoms of a tick bite and Lyme disease
In 60% to 80% of cases, people bitten by an infected tick will develop a rash. Often, this rash is circular or bullseye-shaped. The bite itself does not usually cause pain or itching.
Other symptoms of Lyme disease may appear within 3 to 30 days of being bitten:
If a tick bite goes untreated, bacteria can enter the bloodstream and cause more prolonged and severe symptoms, including intense headaches, dizziness, muscle and joint pain, fatigue, etc.
What to do after a tick bite
Don't panic! If the tick has been attached for less than 24 hours, there is very little chance that it could have transmitted Lyme disease.
As soon as you spot a tick attached to your skin, gently remove it with a pair of tweezers or tick remover. Try not to break it.
We recommend that you consult your pharmacist if any of the following apply:
A tick has remained attached for more than 24 hours
Redness (target or ring shape) extends over more than 5 cm
Redness persists for more than 48 hours
You experience other symptoms of Lyme disease following an outdoor activity that may have exposed you to tick bites
Treatment of Lyme disease
Prompt antibiotic treatment can effectively prevent Lyme disease. After evaluating certain criteria with you, your pharmacist can prescribe medication.
If a bite is not detected early enough, and bacteria may have entered the bloodstream, several weeks of antibiotic treatment may be required.
How to protect yourself from tick bites
As Brunet-affiliated pharmacist-owner David Gauthier said in the podcast Comment reconnaître la maladie de Lyme? | Brunet [How to recognize Lyme disease], "It's all about prevention".
Apply mosquito repellent
Take a shower after you come indoors and thoroughly inspect your body for ticks
Check your pets and gear for ticks after you come indoors
Wear clothes that cover your arms and legs, closed-toe shoes, and a hat
Stay on trails and avoid walking through tall grass when possible
Ticks carrying Lyme disease are most commonly found in forests and wooded areas, but don't let that stop you from enjoying the great outdoors. For those who enjoy hiking, gardening, golfing, or camping, Lyme disease prevention is the way to go.
If you have questions about ticks, want to know more about visiting high-risk areas, or suspect that you have symptoms of Lyme disease, your Brunet-affiliated pharmacist is there for you.