You're probably aware of the health benefits of the Mediterranean diet, but do you know what the MIND diet is? Developed by researchers at the Rush University Medical Center, its goal is to help your brain stay healthy. Here's how.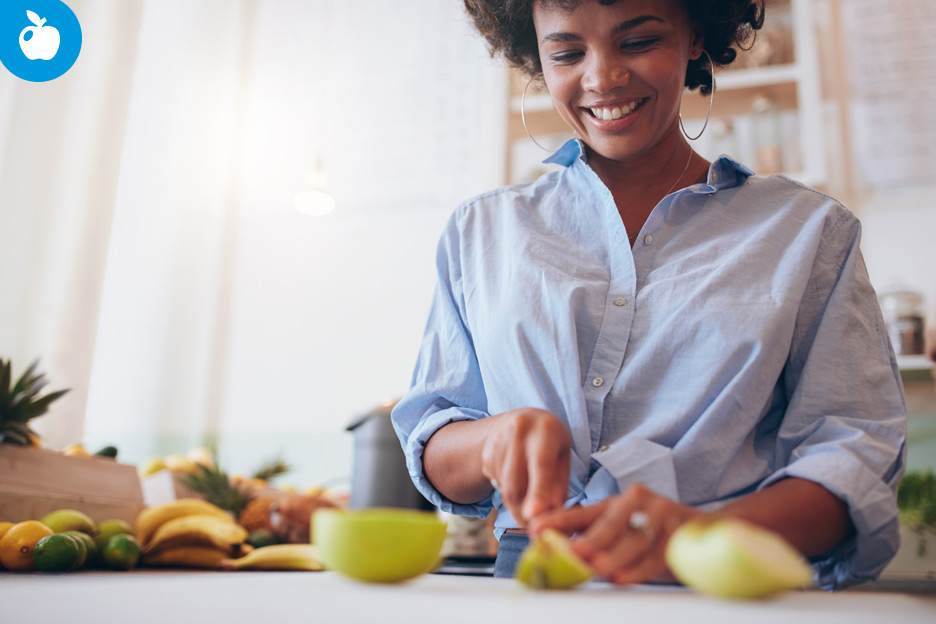 What is the MIND diet?
The MIND diet, which stands for Mediterranean-DASH Intervention for Neurodegenerative Delay, is similar to the Mediterranean diet. Its purpose is to prevent dementia by including lots of leafy greens and berries.
In fact, this type of diet could reduce the risk of Alzheimer's disease by as much a half. It also may help keep cognitive abilities stable and slow brain aging by 7.5 years.
What foods does the MIND diet include?
The MIND diet includes lots of whole grains and avoids processed foods as much as possible. It recommends you eat:
Nuts, leafy greens and other vegetables every day
Berries and poultry at least twice a week
Beans at least three times a week
Fish once a week
Three servings of whole grains every day
It also recommends you use olive oil as your cooking oil and drink a glass of wine a day, if you want.

Other MIND diet recommendations
Start the day off right by mixing a bowl of oat flour with Greek yogurt and berries!
In addition to the foods listed above, the MIND diet recommends you limit your fat intake by avoiding:
Red meat
Butter and margarine
Cheese
Pastries and sweets
Fried food and ready-to-eat meals
Treat yourself to a bowl of whole wheat pasta with chickpeas and vegetables and a glass of your favourite red wine!
Excellent alternatives
It can be difficult to get the right nutrients when dealing with dietary restrictions. Thankfully, there are plenty of healthy alternatives. Here are a few examples.
Almond milk
If you're allergic to milk or are lactose intolerant or a vegan, try drinking almond milk instead of cow's milk. Mainly made from water, almond milk doesn't contain sugar and is enriched with calcium and vitamin D.
Coconut oil
Coconut oil is a great substitute for other vegetable oils when you want to fry or sauté ingredients. It can also be used as a spread instead of butter or margarine. But be careful! Just like any other fatty ingredient, it's very high in calories.
Sunflower seed butter
Instead of reaching for peanut butter in the morning, try sunflower seed butter on your toast! Packed with nutrients, it has more magnesium, zinc, iron and vitamin E than peanut butter.

Bread is back, and it's better than ever!
In the last few years, grain products such as bread and bagels were frowned upon because they contain gluten and carbohydrates. Happily, they are making a comeback. According to recent studies, the "gluten-free" fad seems to have run its course. Finally, we can eat bread again without feeling guilty!
To help you make informed choices, we've prepared a short guide to help you choose the bread that's best for you:
Look for whole-grain products:
The word "whole" should appear in the list of ingredients before the name of the grain.

Try sprouted whole-grain bread:
Germination increases the antioxidant, folate and iron content of grains.

Buy slow-fermented artisan bread:
Researchers have discovered that fermentation length determines the digestibility of bread. So, if you're having trouble digesting fast-fermented commercial bread, choose slow-fermented artisan bread instead.

Choose bread that contains only a few ingredients:
Look for bread that contains only a few additives, unless the additional ingredients are various seeds and grains. In fact, you should look for fewer additives, preservatives or colouring.

Do not neglect the benefits of white bread:
White bread is made with enriched wheat flour and contains iron and B vitamins such as thiamine, riboflavin, niacin and folic acid.
To learn more about the best way to adopt a healthy diet, talk to your Brunet pharmacist! They'll be more than happy to answer all your questions.