Back-to-school season is an opportunity to show off your unique qualities. Here are six beauty tips to help you feel good about yourself on the first day of school—and year-round!
1. Give your face the care it needs
To look and feel your best, adopt a customized skin care routine for a healthy glow!
Here's a quick, four-step regimen you can follow every day:
Cleanse to remove makeup, impurities, and accumulated sebum. This prevents your pores from clogging and allows your skin to breathe.
Apply a liquid or spray facial toner. This product's targeted action responds to your skin's specific needs, such as additional hydration or protection, for a glowing complexion.
Apply a moisturizer that's adapted to your skin type to prevent dryness, protect against environmental stressors, and stimulate cell regeneration.
Use a sunscreen with an SPF of at least 30. Apply it to your face and neck every morning, without fail. After all, the damaging effects of ultraviolet rays, such as premature skin aging, are not exclusive to summer!
Once or twice a week, treat yourself to a gentle scrub or peel to remove dead skin cells. This will give you a brighter complexion and an epidermis that's more receptive to care.
Product suggestions:
A make-up removing micellar solution that provides a deep, gentle cleanse while soothing and moisturizing your skin.
A dry-touch face sunscreen lotion. Mattifying and non-greasy, this type of sunscreen sunscreen is instantly absorbed by your skin. The perfect choice for busy mornings, and easy to stow in your school bag.
2. Use treatment products as needed
Do you suffer from acne breakouts? Do you develop dark spots or fine lines in the summer? To treat these skin issues, consider incorporating specially formulated products into your beauty regimen.
Product suggestions:
A gentle cleansing gel. In addition to cleansing, soothing, and mattifying your skin, this type of cleanser has purifying properties and reduces sebum production. It's a perfect choice for acne-prone skin.
A corrective anti-acne treatment. This type of product not only brightens your complexion and provides 24-hour hydration, but also targets pimples, pigmentation spots, and enlarged pores.
A firming cream designed to reduce the appearance of wrinkles.
3. Adopt a good body care routine
To feel your best from head to toe, it's important to embrace body care as well:
After a shower or bath, apply a nourishing body lotion to keep your skin soft and supple. Massage onto damp skin for maximum hydration.
Exfoliate a few times per week with an exfoliating glove or body scrub.
Don't neglect your hands and feet, as they're the most used parts of your body. Opt for a daily targeted treatment to prevent dryness and cracking.
Visit our Inspired by Nature section to find the perfect skincare products - as gentle for you as they are for the planet.
4. Schedule relaxation time
Feeling good about yourself means giving yourself the right to relax and re-energize, especially during stressful times like back-to-school season.
In the days leading up to the start of term, be sure to do something calming and enjoyable: apply a face mask while listening to your favourite podcast, take a hot bath while diffusing essential oils, or treat yourself to an at-home manicure. Indulge in what you love and remember to make this a habit in the months to come!
Product suggestions:
True lavender essential oil. Simply add a few drops of this essential oil to your diffuser, an odourless shower gel, or bath salts for a deeply relaxing experience.
A peeling mask. Its exfoliating action helps unclogging the pores and brightening the complexion.
5. Wear makeup with confidence
Want to give yourself a more luminous glow with a touch of corrector, concealer, or foundation? Ready to try a new mascara or lip gloss? Whatever your cosmetic aspirations, we'll make them happen.
Product suggestions:
A mascara that adds length and volume to your lashes.
A gloss that leave your lips soft, moisturized and shiny.
A long-lasting foundation that smoothes out fine lines.
6. Ask for advice
Looking for cosmetics to top up your makeup bag? On the hunt for skin care products that suit your skin type? You may also be wondering what your skin type is! Brunet's cosmetic specialists can provide an informed opinion and suggest products that meet your expectations and budget. Plus, you can pick up your school supplies while you're there!
Find everything you need for Back-to-School
Other timely articles for back-to-school season
Last updated on July 27, 2022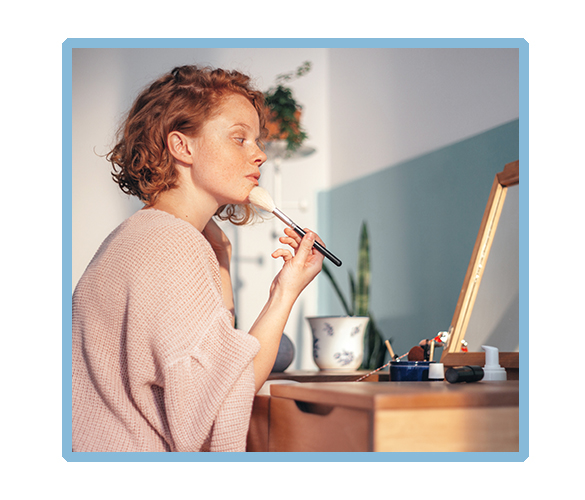 Did you enjoy this content?
The Brunet newsletter is beauty tips and promotions just for you, all year round.