For many, the holiday season is all about celebrating with family, friends, and colleagues. It's the perfect occasion to dress up and try some festive makeup looks! For truly glamourous results, follow our advice on how to elevate your beauty routine. Let the countdown to the holidays begin!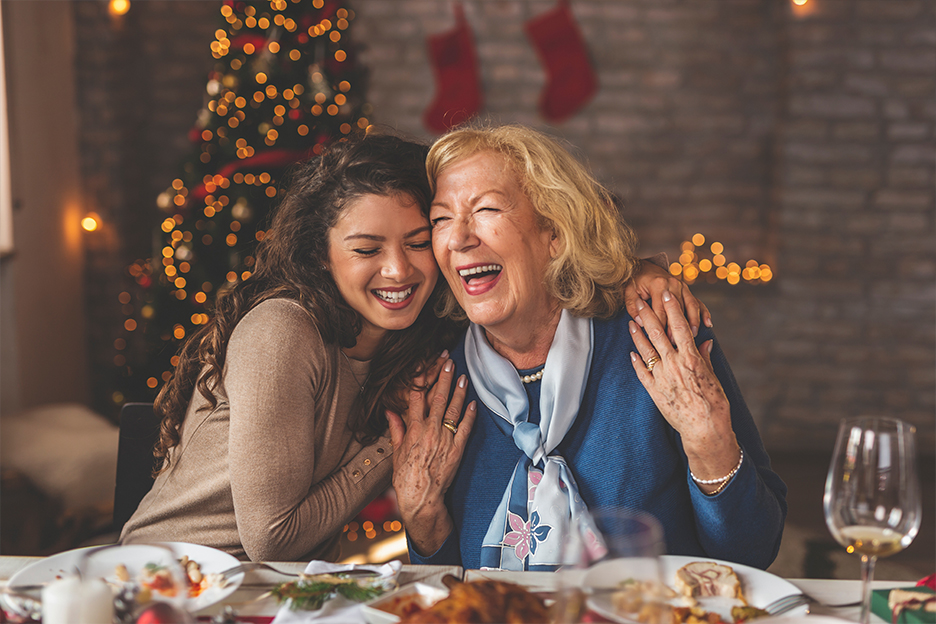 A month before: Integrate these habits into your beauty routine
Wash your face daily
Washing your face every day may seem obvious, but many people skip this important beauty step. Daily cleansing is essential for healthy skin! It removes excess sebum and impurities that clog your pores during the day and night. That's why it's recommended to wash your face twice a day, in the morning and evening.
Make sure to choose a product that suits your skin type. After cleansing, remember to rinse your face thoroughly with warm water and to gently pat your skin dry.
Exfoliate your skin
Scrubbing your skin with an exfoliant once or twice a week is an effective way to unclog pores. Exfoliation removes dead skin cells and makeup residue, leaving your skin clean and smooth. It also helps moisturizing creams, serums, and other products deeply penetrate the skin.
Opt for a sugar scrub, coffee scrub, or fruit-based scrub for peachy soft skin this holiday season. A facial exfoliating mitt will also give you a luminous complexion!
Use face masks
Face masks can be a great addition to your skincare routine. They're sure to give you that holiday glow! First, find a product that suits your skin type. You have a multitude of options to choose from: some are moisturizing, purifying, astringent, etc. Then, once a week, apply your mask to clean skin. Leave it on for about 10 minutes or follow the directions on the package. Finally, rinse with cold water to tighten your pores.
Pro tip: Give yourself a steam facial before applying your mask to get the most benefits. Simply place your face over a bowl of hot water (30 cm away) and cover your head with a towel. Wait 5 to 10 minutes. The steam will open up your pores so they can better absorb nutrients.
Moisturize your skin
Good hydration is key for beautiful, soft skin. Moisturizers help to regenerate skin cells and create a protective barrier against external irritants. It's therefore particularly important to moisturize your face in cold weather, which dries out your skin.
After cleansing, apply a moisturizing cream and wait a few minutes for it to be absorbed. Your skin will thank you!
A week before: Plan your holiday look
Test your makeup
If you're thinking of trying a new look for the holidays, it's a good idea to practice before the event. The goal is to avoid misshaps on the big day! A week before, do a makeup trial. This will give you the opportunity to change your look if needed.
If you've purchased new cosmetics and have sensitive skin, now's the time to do a patch test. Apply the product to a small area behind your ear or on your hand and watch for an allergic reaction. If any irritation occurs, consult your cosmetician and discontinue use of the product.
Visit the hairdresser
If you want to freshen up your cut or colour, or try something completely new, don't wait till the last minute. You want to have plenty of time to return to the salon in case of an unexpected hair disaster.
The day before: Focus on the details
Get a manicure
Head to the salon for sparkly holiday nails, or let your creativity flow and give yourself an at-home manicure. Take the opportunity to pamper yourself: apply a hand mask, file your nails, push back your cuticles, etc. When applying your nail polish, don't forget to start with a base coat and finish with a top coat. You'll have flawless nails for the entire holiday season!
Try a seasonal motif, like snowflakes or mistletoe, or stick to the classics. Red, dusty rose, and white are timeless shades and are sure to make a great impression at any celebration.
Prep your hair
Want to recreate an elaborate hairstyle? Wash your hair the day before, as your scalp's natural oils will give your style a longer hold. If you want to achieve overnight curls, don't forget to put in rollers or braid your hair before bed.
Shape your eyebrows
If you want to shape your eyebrows, the eve of the event is the best time to do it. That way, you won't have any redness or regrowth on the day of your party.
The day of the event: Get ready!
Cleanse, exfoliate, and moisturize your skin as usual, and then get started on your makeup. For a New Year's Eve celebration, be daring and opt for bright red lips or glittery eyelids. Now's the time to shine! Finish off your look with a setting spray to make your makeup last all night. Finally, don't forget to slide your makeup kit into your purse for touch-ups. Have fun!
Last updated on November 29, 2022
More articles to help you get ready for the holidays