Ah, summer... ablaze with radiance and warmth. Light, greenery, heat – if only it could last forever. But our balmy season is short, and we need to enjoy it to the fullest !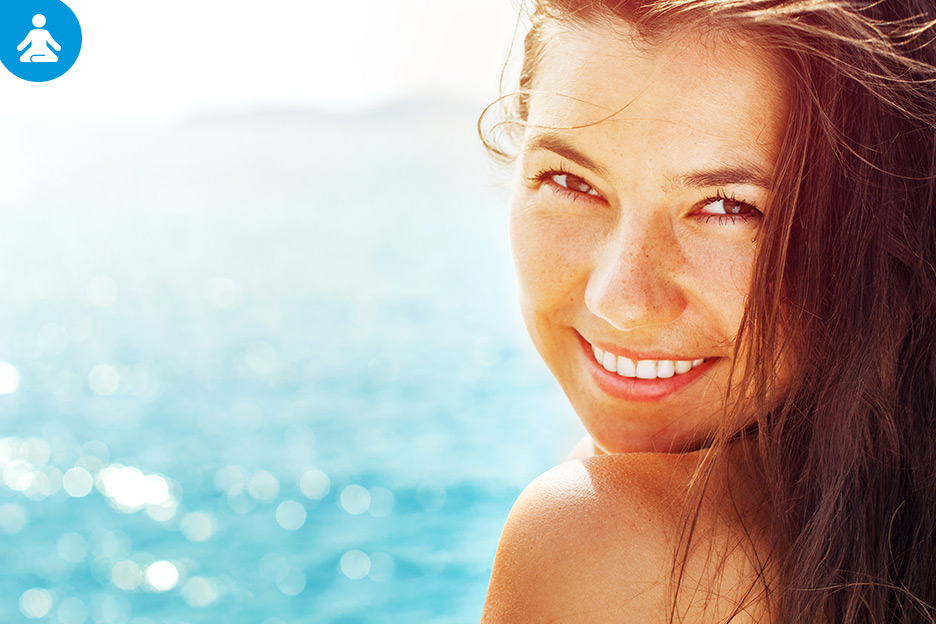 In town or at the beach, it's the same sun up there
Ever since dermatologists have exposed the causal effects of the sun's rays on skin cancer, awareness about sun-related hazards has become more widespread.
The sun is great, but you need to protect yourself. We no longer spend a day at the beach or by the pool without taking along our sunscreen.
But what about when you're in town and when you go to work? When you walk to the metro or spend long minutes (even hours) in your car with the sun beating down on your windshield?
Too many people still think that sun protection is required only on vacation. In fact, you need protection from the sun wherever you are, especially from noon to 4 PM – even in the city!
Did you know that light-coloured walls and glass surfaces reflect the sun's rays as intensely as sand and the sea? That UVA, which ages skin, goes right through your office windows with ease?
Planning to have lunch with colleagues on a terrace? Think sunscreen. Happy hour with friends and a view of the setting sun? Again, think sunscreen. Going jogging after work? Well, you get the idea…
Be alert, not alarmed
But don't overdo it! There's no need to apply a layer of SPF 50 sunscreen half an inch thick on your skin just to attend your morning meeting. But be alert.
Light protection – also known as urban sun protection – may be just the thing you need.
For this kind of protection, you can use a sunscreen or day cream with SPF. Also, most foundations include sun protection (often SPF 15). Speak with your cosmetician – she can provide valuable advice.
Dry oil for healthy skin all summer long
Dry oil has become very popular in recent years. And rightly so. It offers so many benefits that it's impossible not to be won over when you try one.
Dry oil often consists of argan oil, borage oil, sweet almond oil, St. John's wort, camellia or coconut oil. It is said to have many benefits, including anti-aging, skin-firming, and moisturizing and nourishing properties.
It will even endow your face and body with a light tan that goes really well with the colours of summer.
For all skin types
There's a common assumption that dry oil is not suitable for oily skin, but it's not as simple as that. It's really a matter of choosing the right oil for your skin. Once again, talking with your cosmetician is your best bet. You'll be glad you did!
Multiple applications
Dry oil can be applied all over your body after your bath or shower, morning or evening, or both.
It's also great for your hair. If you have dry or damaged hair, apply dry oil before you shampoo. Massage thoroughly and leave in for a long time before you shampoo. And if the pleasure-seeker in you wants to indulge even more, choose a lightly perfumed oil.
For you, I suggest
Huile prodigieuse Nuxe
Huile sensorielle aux 3 fleurs blanches Lierac