Make your own flavoured water with whatever you have on hand. My top choice: water + clementines + mint leaves!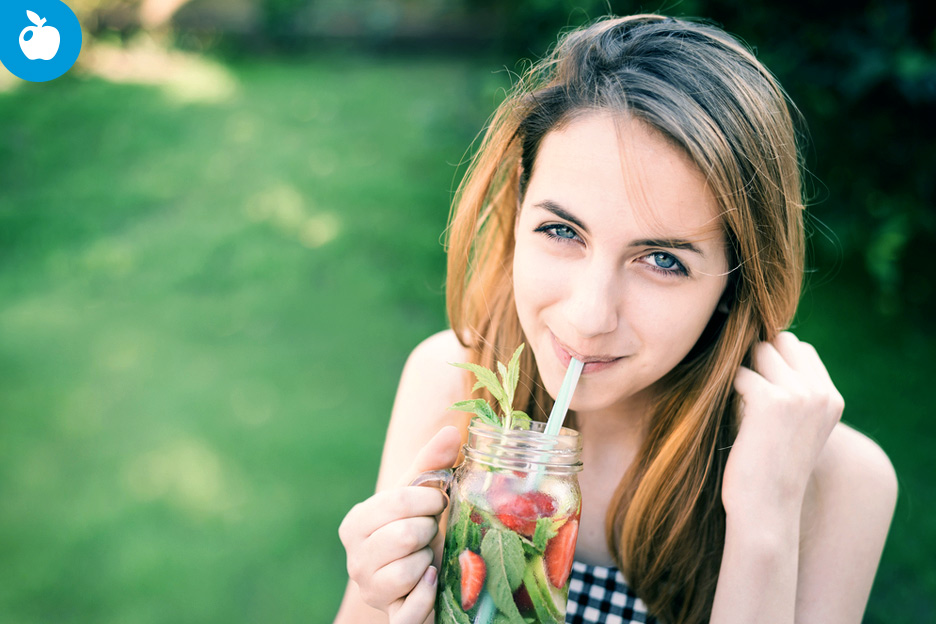 Summer is finally here… and heat waves are on the horizon! When the temperature gets above 30 °C, it's especially important to stay well hydrated. Looking for some refreshing ideas on how to cool off? Here are some original tips and tricks on how to give your water a delicious boost.
Sweetened beverages vs. flavoured water
Store-bought sugary drinks are not the best option to stay hydrated, for the simple reason that they often contain too much sugar, providing empty calories (i.e. calories having little impact on the feeling of satiety). Instead, reach for your very own flavoured water, made with your favourite foods. Certain combinations offer a surprisingly delicious taste and are great at quenching your thirst.
Be adventurous! Go off the beaten path and try new combinations of fruits, fresh herbs and spices to flavour your water. The spices bring out the flavours, taking your water to a whole new level.
Jazzing up your water 101
Enhancing the flavour of your H2O is easy: just infuse 500 ml of water with fresh fruits, herbs and spices. To thoroughly enjoy the infusion, let it rest overnight.
Here are 10 original flavoured water ideas
Peach + coconut water + nutmeg
Clementines + mint leaves
Cranberries + basil leaves
Blackberries + kombu seaweed
Pear + cinnamon stick + vanilla extract
Pineapple + orange + fresh ginger
Blackcurrants + rose water
Frozen cherries + cinnamon stick
Green apple + mint leaves
Cucumber + citronella
Veggies to drink, please
Aside from flavoured waters, you can also replace your usual fruit juices with juices made primarily from vegetables. Concoct your very own in no time at all using a juicer. All you need is one cucumber, one celery stalk, some kale, one green apple, a bit of fresh ginger and the juice of one lemon. Foods with a high water content serve as a great base for juices and smoothies. Cucumber and watermelon will be your best allies!
Finally, if you feel thirsty, it's a sign that you're already slightly dehydrated. Fatigue, irritability and headaches are other signs. Always have a bottle of plain or flavoured water on hand so you can drink throughout the day and prevent dehydration. Adding some ice cubes to your pitcher will keep it cool all day long—plus you'll feel tempted to fill your glass for a refresher. Enjoy your summer!